The Latest update
We still remain a UK manufactured products.
You can find deals on this site. Dont be shy get in touch. We are so proud our pallet pullers have given our customers many years of service.
Independant couriers can put this tool against their expenses.
Replacement straps still available. Finally, If you have a different puller but like the Safepul straps, We sell a UNI strap that fits most puller types
Thank you to all our great customers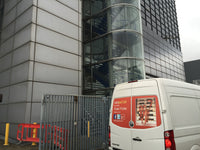 Hard at work
The Pallet Puller.  Offloading made simple. Attach the fork to the pallets central stump, run the strap around the desired anchor point  (Let the forklift driver decide the best anchor point) Pull slowly bringing tension to the strap. Job done.  Be safe with Safepul.